Government proposed a new regime for Work Visas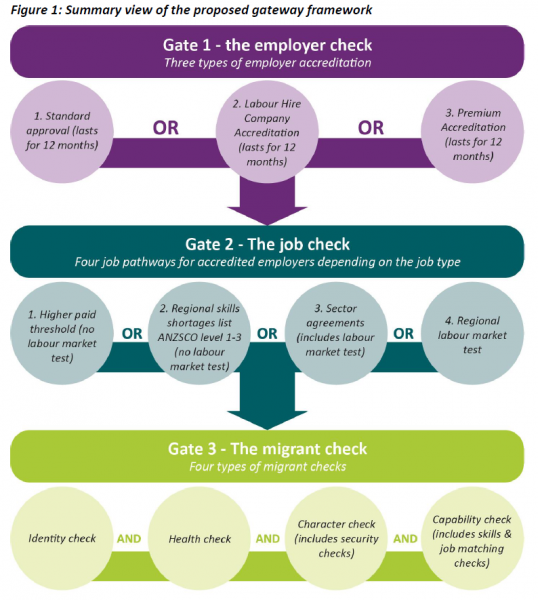 Friday 26 April 2019
Government proposed a new regime for Work Visas
On 18 December 2018, the government announced a new regime for dealing with works visas. The proposed changes were open for consultation until mid-March. The government will now consider the feedback before finalising the changes.
The proposals are designed to affect all work visas including the following:
Essential skills including the Essential Skills in Demand Lists;

Approvals in principle obtained by employers;

Talent (accredited employers);

Work to residency – long term skill shortage list.

Silver Fern (Practical Experience);

Silver Fern (Job Search).
The new framework is intended to simplify the immigration system by reducing the number of pathways for the work visas. Instead of six different categories of work visas, there will be one category called Employer Assisted Temporary Work Visa. All applications for this visa will be processed through a framework made up of three "gates" as follows:
Employer-gate

– employers are accredited to employ temporary migrant workers;

Job-gate

– checks are made to ensure no New Zealander is able to fill the job the employer is recruiting for;

Migrant-gate

– checks are made on the worker's identify, health, character, and capability.
Central to the new framework is that the system will be employer-led rather than migrant/worker led.
Employer Gate
The employer check will provide 3 types of employer accreditation:
Standard approval;

Labour hire company accreditation

Premium accreditation.
Each of the three employer accreditations lasts for 12 months.
Job Gate
The job check gateway gate will provide 4 job pathways for accredited employers depending on the job type as follows:
Higher paid threshold – no labour market test;

Regional skills shortage list: ANZSCO levels 1-3 (no labour market test);

Sector agreements (includes labour market test); or

Regional labour market test.
Migrant Gate
The migrant-gate will provide for four types of migrant checks:
Identity check;

Health check;

Character check (including security checks);

Capability check (including skills and job matching checks).
These Gates are summarised in the Diagram.
Significant Changes for Employer
It is proposed that compulsory employer accreditation is introduced for all employers who want to recruit temporary workers. Accreditation will require employers to have the following:
Incentives training and upskilling New Zealanders;

Put upward pressure on wages and conditions;

Meet minimum immigration and employment regulatory standards;

Maintain the integrity of the Immigration system.
Standard accreditation is available for employers who recruit 5 or fewer temporary migrant workers in 12 months.
The minimum standards for the above criteria will need to be met. The approval will only last for 12 months. Annual renewal is required.
Premium accredited employers are for employers who employ 6 or more migrant workers. These employers and the Labour Hire Companies are required to meet higher requirements.
There is a proposal to allow the extension of the Visa length for lower skilled workers from 1 year to 3 years if the job is in a region that is identified as having tight labour markets and there are no significant infrastructure constraints.
Job-gate
I have set out on the above the 4 different job pathways available to employers recruiting temporary migrant workers. An employer must go through one of the 4 job pathways.
What constitutes "highly paid" threshold is:
150% of the national median income for premium accredited employers; or

200% for all other employers.
The current national median income is $25 per hour or $52,000 per annum.
Amongst the proposed pathways is one for "sector agreements". It is proposed that agreements are to be negotiated with representative industry bodies and made compulsory for employers seeing to recruit migrants in that sector.
The sectors which Immigration will focus on initially will be:
It is noted that the following sectors may also be included in due course:
Construction is not in the scope of these agreements. The government announced that other arrangements are being made to address long term shortages in Construction.
It is suggested that negotiations will begin with the residential aged care sector and the tourism and hospitality sector in mid-2019, with the expectation that the agreements would come into effect by early 2020.
It is also proposed that the recognised seasonal employer policy which provides access to lower skilled workers mainly from the Pacific in the horticulture and viticulture industries would be reviewed separately in 2019. Sector agreements may be negotiated following that review.
The government also proposes to differentiate between the regions using a set of indicators which will reflect the labour market dynamics and growth pressures of NZ's 16 regions. Exactly how they plan to collect that information is not clear.
Migrant-gate
It is proposed that the check of identity, health, character, and capability of the worker will remain largely the same.
Other Arrangements
It is proposed that the mid-skilled remuneration threshold is to be raised to 100% of the national median wage, i.e. $52,000 per annum. This will be brought in line with the threshold for application for residency under the Skilled Migrant Category.
It is also proposed to reinstate the right for lower-skilled temporary workers to bring their partners and dependent children to NZ for the length of their stay in NZ.
The partners will be granted a visitor's visa and the school-aged children will be granted domestic student visas. Partners will only be able to work if they can obtain an employer assisted work visa in their own right.
Timeframe for Implementation
It is proposed that the final changes will be announced in mid-2019 with the intention that the framework will be operational by mid-2020.
Reviewing the Stand Down Period for Lower Skilled Workers
Changes were made in August 2017 requiring lower skilled migrants who have been in NZ for 3 years to have a stand down period of 12 months. The government is reviewing the stand down period but has not proposed any firm position on this issue yet.
Summary and our Comments
In general, the employer led system will shift the upfront costs of being accredited to the employers. Employers are required to satisfy the Government that they are compliant with NZ laws and have plans for incentivising and training New Zealanders and meeting minimum employment and immigration standards. This will have significant cost implications on smaller employers and businesses. Standard accreditation costs (for =< 5 or few migrant workers) are expected to be $600 per annum, and $2,000 per annum for premium (6+ migrant workers) and labour hire company accreditation.
In addition, employers in certain industries which rely heavily on migrant workers will need to enter into sector agreements which will be made compulsory for all employers in that sector. Exactly how that will work will be very interesting. We note that even for workers there is no compulsory unionisation. Interestingly, this will make it compulsory for employers to be "unionised". Who will be considered "representative industry bodies" acceptable to negotiate sectors agreements will be interesting to see.
Finally, at the job-gate, it is unclear as to whether the regional skills shortage list for ANZSCO Levels 1-3 will be made way more extensive than that at present. The occupations on that shortage list do not have to meet any labour market test. Any job falling outside which is not sufficiently high paid, nor governed by a sector agreement will have to be subject to a regional labour market test. Again, the details of that test are not known currently.
The Government should be applauded for reinstating the ability for partners and children of a lower-skilled worker to stay with the worker during their time in NZ. While the partner will not be able to work unless s/he or can qualify for an employer-assisted work visa in his/ her own right, this does seem to be a reasonable balance to strike.
In summary, this framework has provided certain starting points for discussion and consultation. It is noted that the consultation period was between late December and mid-March. That is when most businesses will be either closed for Christmas and New Year period or busy with end of financial year arrangements. This would have limited the extent of the feedback provided.
If you have any questions, please contact Teresa Chan at teresa@tchanlaw.co.nz or (03) 477 1069.
Teresa Chan
26 April 2019
The above article is for general information only. For specific advice, please contact Teresa Chan at Teresa Chan Law Limited.
KEYWORDS:
Employer-gate Job-gate Migrant-gate work visa migrant ANZSCO employer pathway